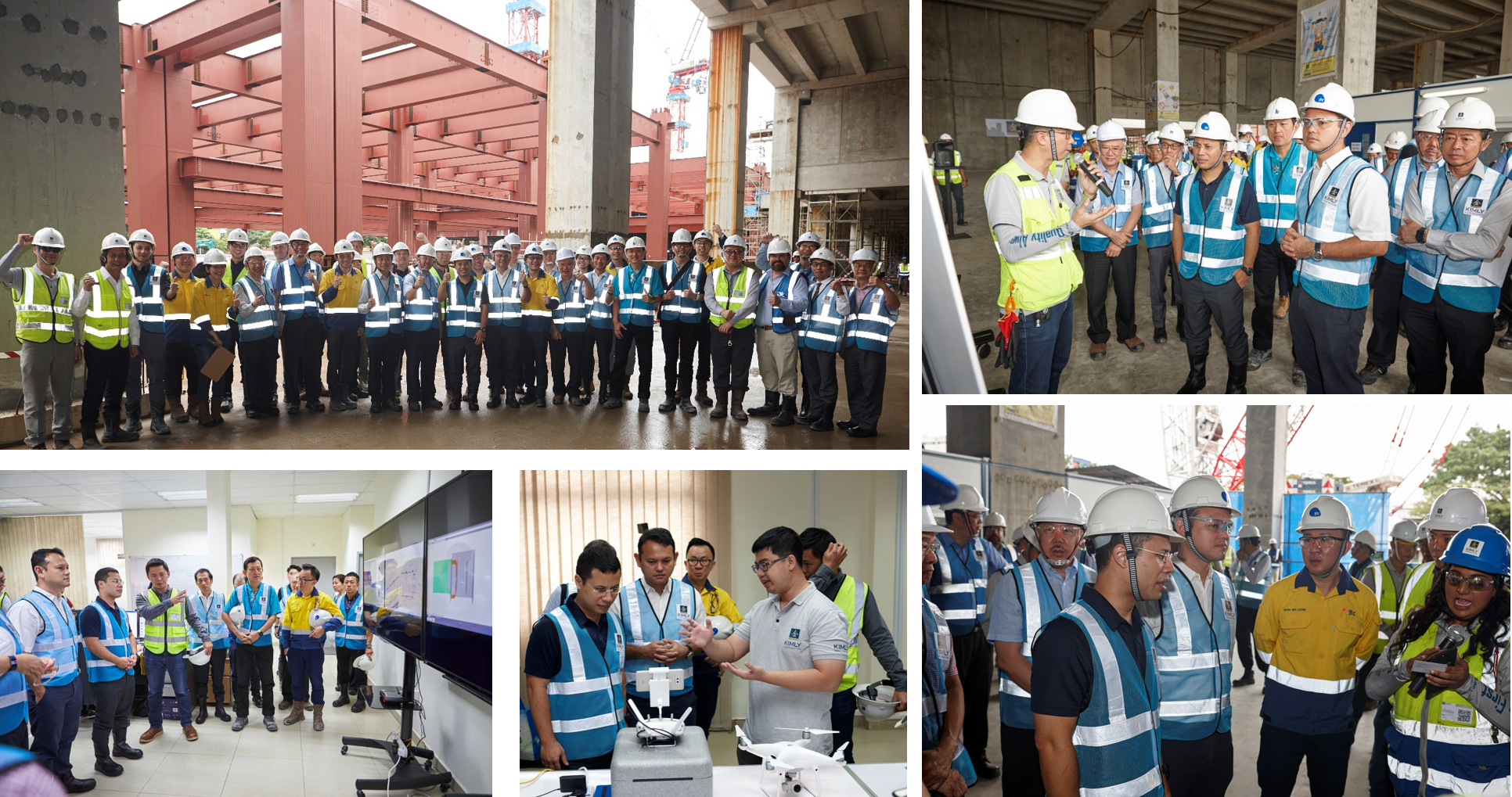 Implementation of Integrated Digital Delivery (IDD) in JTC Logistics Hub @ Gul Circle
On 14 November 2018, Mr. Desmond Lee, Second Minister for National Development and Minister for Social and Family Development, and Mr. Zagy Mohamad, Minister of State for National Development and Ministry of Manpower visited JTC Logistics Hub project site. The purpose of the visit was to ascertain how both JTC and Kimly have benefited from the implementation of Integrated Digital Delivery (IDD).
In 2017, the Building and Construction Authority (BCA) rolled out the Construction Industry Transformation Map (ITM), identifying IDD as one of its key thrust; BCA announced JTC Logistics Hub as one of the first twelve numbers of IDD pilot projects.
Kimly has long since adopted IDD by being both a pioneer builder in BIM and forefront of VDC implementation, and has internalized this in the running of the company's operations – the JTC Logistics Hub served as the perfect platform to showcase the advantages of IDD.
IDD technologies implemented in JTC Logistics Hub include Cloud-Based Collaboration Platform, Digital Ordering/Manufacturing System, BIM-based Digital Logistics Management, Safety Management System and Defect Management System. These technologies enable the project team to visualize, coordinate, communicate and build more efficiently and effectively.
IDD was implemented at various stages of project, as early as during tender stage, through the design development stage to the construction stage, and extending beyond to the post construction – as a comprehensive as-built BIM for Facilities Management.
Tangible benefits at the construction site include streamlining of the Logistics Chain Management process, improving site productivity, reducing site wastage and lowering construction risks.
Kimly is committed to have continuous improvement in expanding digitalization skills so that benefits are seen before contract award, during design and construction and once the completed project is handed over, resulting in reduced cost, faster delivery and added value to clients and end users.
JTC Logistics Hub is Kimly's pilot project in IDD implementation and Kimly is continually developing new approaches in IDD technologies to build its competency and competitiveness.