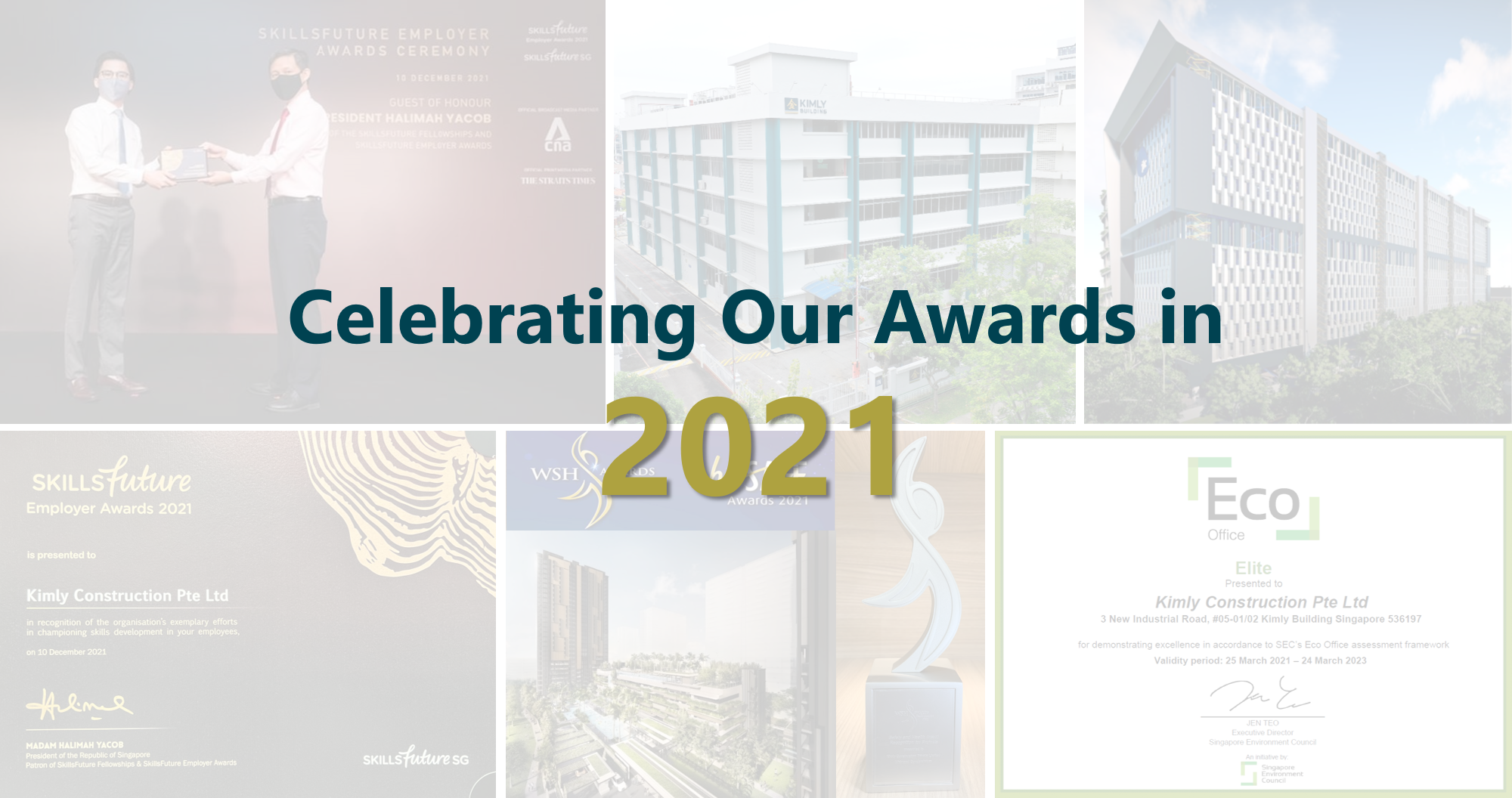 We would like to take a moment to reflect and celebrate on our achievements in the past year.
SkillsFuture Employer Award
On 10th December 2021, Kimly Construction was presented the SkillsFuture Employer Award by Minister of Education, Mr Chan Chun Sing, in presence of the Guest-of-Honour, President Halimah Yacob. The SkillsFuture Employer Awards honour exemplary organizations that champion employees' skills development and build a lifelong learning culture at the workplace. This Award recognises organizations as outstanding employer that emphasizes employees' skills development. You can find more information on the SkillsFuture Employer Awards here https://www.skillsfuture.gov.sg/employerawards/nsme2021.

BCA Integrated Digital Delivery Award
The inaugural BCA Integrated Digital Delivery (IDD) Awards was introduced in 2021 to give recognition to firms and projects for their outstanding 'digitalised' approaches in adopting IDD to achieve increased productivity and resiliency.
Kimly Construction is proud to be awarded with two BCA IDD Awards under both Firm and Project categories:
1)    BCA IDD Award (Firm) – Gold
2)    BCA IDD Award (Project) – Gold (Project JTC Logistics Hub @ Gul)
The award under the Firm category recognises how firms adopt an IDD framework, technology and process by establishing well-defined IDD value propositions, policies, standards and training roadmaps. Being one of the local pioneers in adopting Building Information Modelling (BIM), we begin our digitalisation journey in 2009 and diversified into Virtual Design and Construction (VDC) in 2015. Since 2017, we have adopted IDD in all our new projects.
Likewise, the award under the Project category recognises project teams for their innovative use of IDD to streamline work processes and connect stakeholders through digital data, innovation and technology across the whole project life cycle. When IDD was implemented in JTC Logistics Hub @ Gul, improvements in productivity and quality were achieved.
You can find more information on the BCA IDD Awards here https://www1.bca.gov.sg/buildsg/bca-awards/integrated-digital-delivery-idd-award.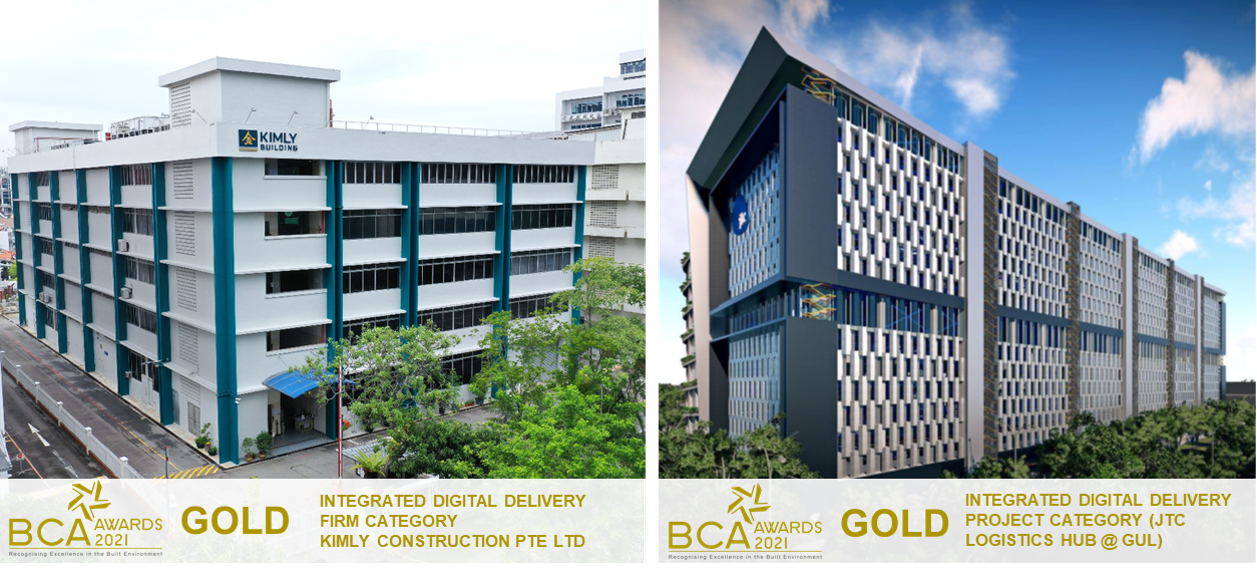 MOM Safety and Health Award Recognition for Projects (SHARP) Award
We are honoured to receive the SHARP award for Midwood Condominium. This award is presented by the Workplace Safety and Health Council (WSHC) and supported by the Ministry of Manpower (MOM). The Award recognizes projects or worksites that have good safety and health performance, and robust workplace safety and health management systems and processes. This SHARP award is a testament of Kimly's efforts to improve and achieve better performance in our Workplace Safety and Health journey, as well as to ensure a safe and healthy work environment in all our project sites.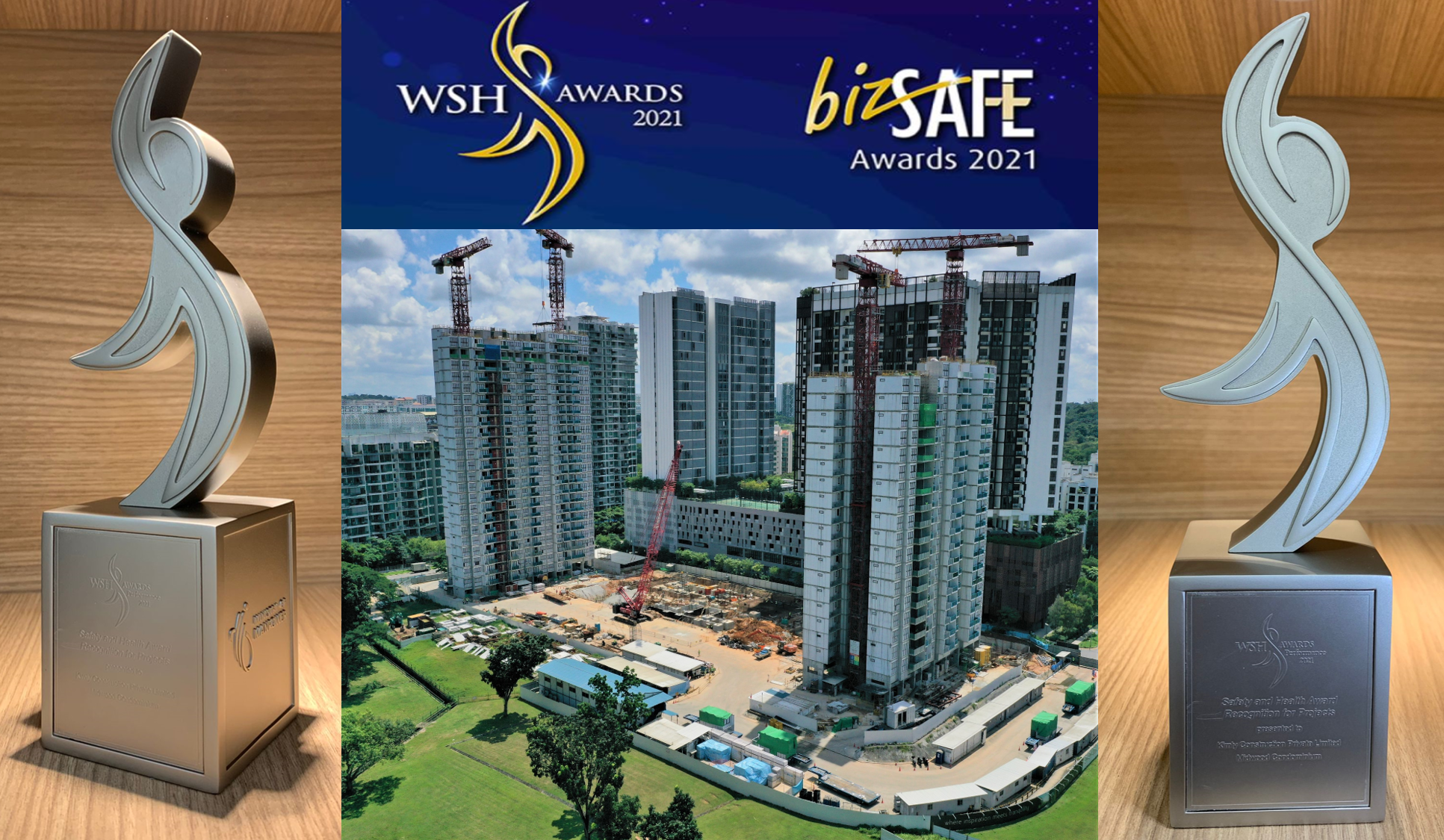 Eco-Office Plus Award
The Eco-Office Plus Award was launched by Singapore Environment Council (SEC) in 2018 to recognize organizations' eco-friendly efforts and achievements in the office. Kimly Construction has attained the Elite certification, the highest category.
Embarking towards a greener future, we will continue to play our part in creating an environmentally conscious workplace and culture through green policies and initiatives.