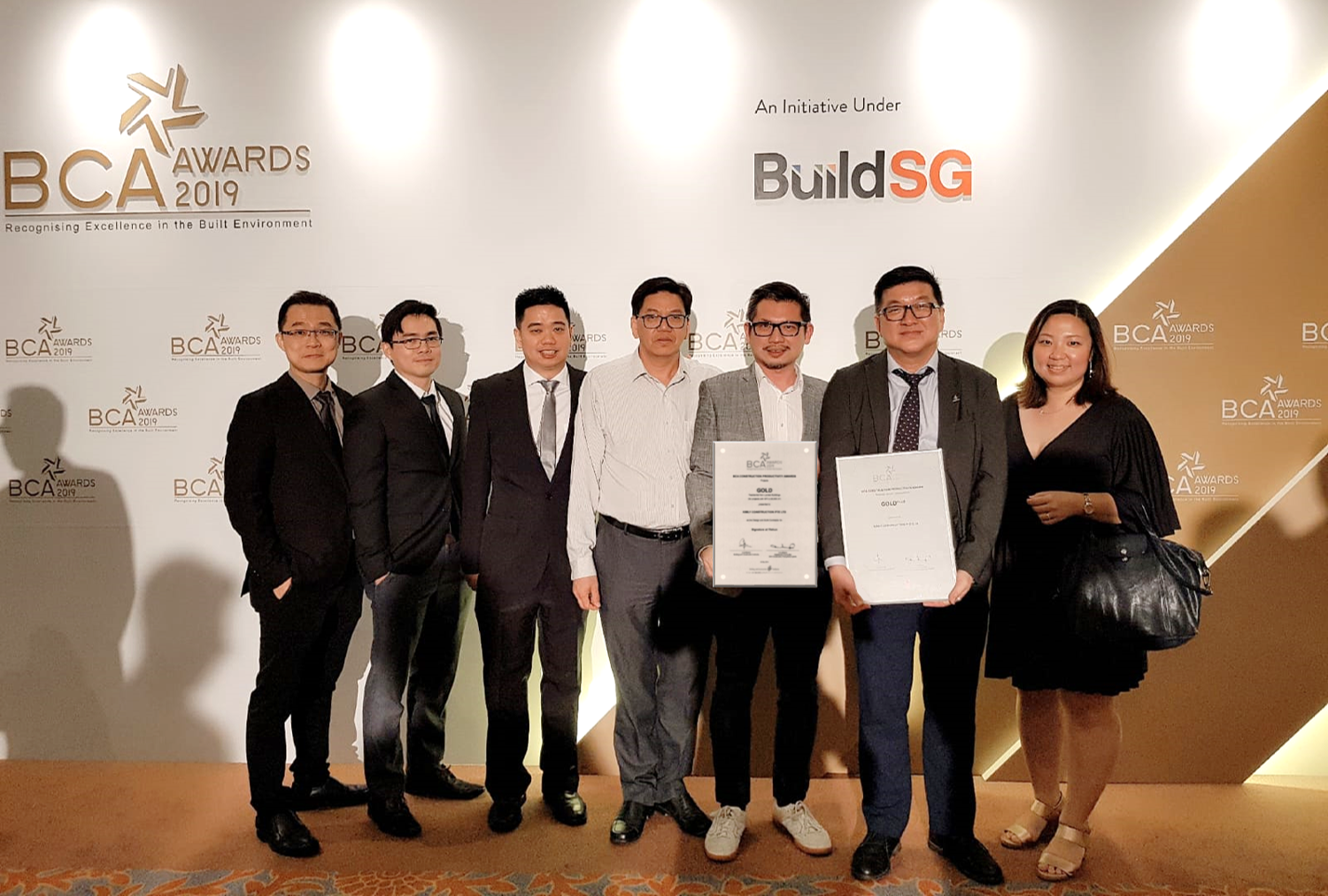 BCA Awards Night is organised by BCA to celebrate and recognise the achievements and the contributions of Built Environment (BE) stakeholders. Graced by Minister of State for National Development and Ministry of Manpower, Mr Zaqy Mohamad and 2M Mr Desmond Lee, the awards ceremony was held on 29 May 2019 at Resort World Sentosa.
During the BCA Awards Night 2019, Kimly Construction clinched two more BCA Construction Productivity Awards (CPA):
1)    BCA CPA – Advocates (Builder) – Gold Plus
2)    BCA CPA – Project (Signature at Yishun) – Gold
BCA CPA – Advocates (Builder) – Gold Plus
BCA CPA – Advocates Award was introduced to recognise outstanding organisations for going the extra mile to achieve productivity improvements at the company levels. Getting BCA CPA – Advocates (Builder) – Gold Plus Award is an acknowledgement to our productivity initiatives in adopting Design for Manufacture and Assembly (DfMA) technology.
Kimly Construction has adopted Mass Engineered Timber (MET) construction in one of the current projects – Eunoia Junior College (EJC). The adoption of MET has brought about advantages and benefits, such as smoother and more productive installation with enhanced safety and quality.
Kimly Construction is listed as a PPVC manufacturer that has met the performance requirement of the DfMA system. It has received PPVC In-Principle Acceptance (IPA) to implement PPVC for upcoming and future projects. At Hillview Rise Development, Kimly Construction's first PPVC project, the extensive use of PPVC with substantial layout modularization resulted in an overall PPVC coverage of 70%, which is higher than BCA's stipulated 65%.
BCA CPA – Project (Signature at Yishun) – Gold
BCA CPA – Projects Award is granted to project teams that have demonstrated productivity in their construction development projects from the design to the end of construction. The award-winning project, Signature at Yishun, is a completed residential project implementing Mobile Battery Mould (MBM).
Kimly Construction has procured the MBM, which is the world's first vertical battery mould with mobility for ease of relocation on site. The MBM alleviated space and logistical constraints on site and facilitated the setting up of an on-site precast and storage yard.
Besides MBM, Kimly Construction has converted the structural system from cast in-situ to precast for all elements except for slab and adopted twin and single type PBUs complete with finishes and fittings in this project to enhance the productivity.
The awards serve as a recognition of our vision in action and underline our continuous pursuit for innovation and productivity.