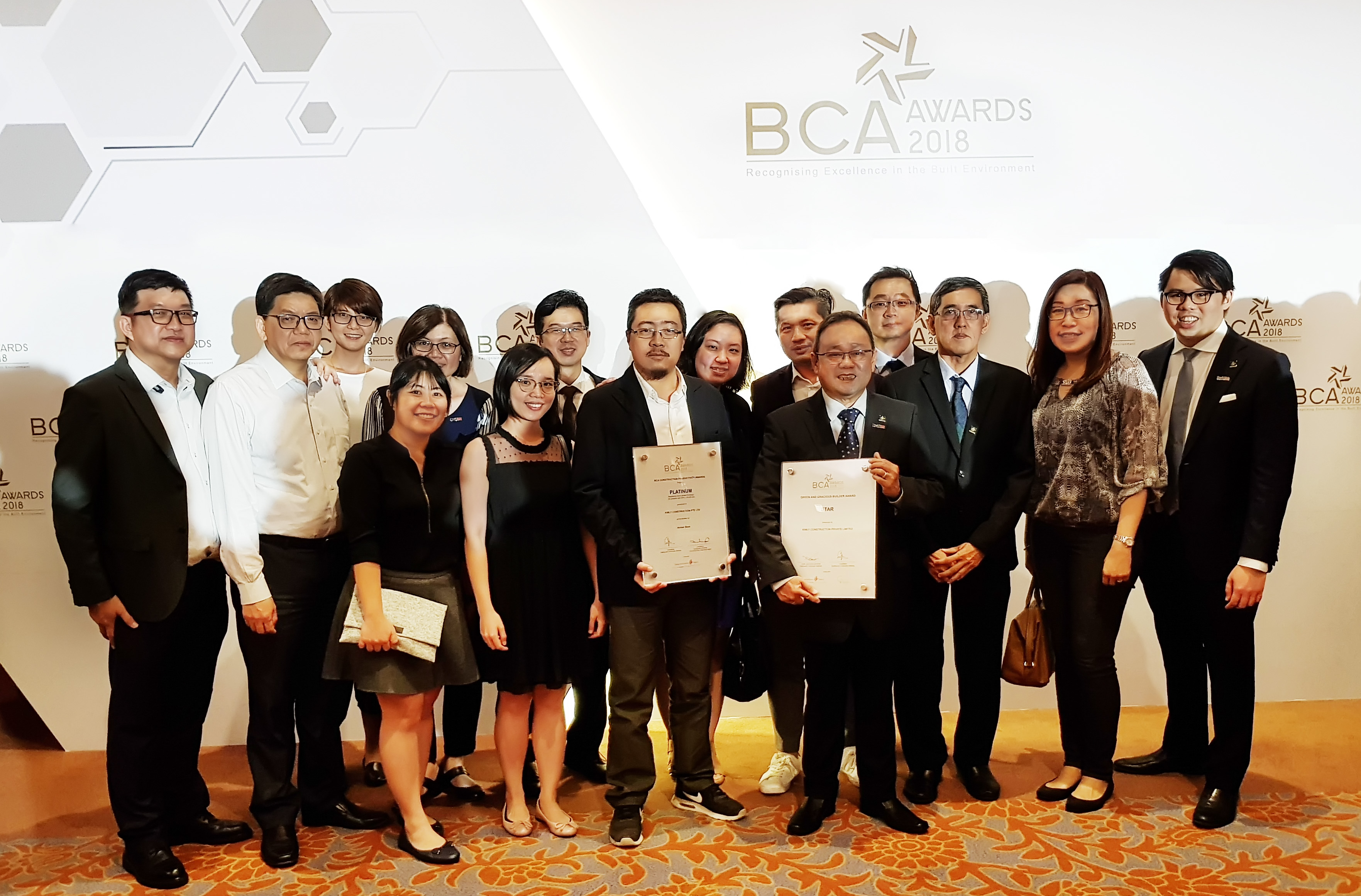 Once again, Kimly Construction has proven our commitment in pursuing excellence. On 22 May 2018, the company obtained several awards at the Building & Construction Authority (BCA) Awards 2018 Gala Dinner, which was held at Resorts World Sentosa.
This year, we are honoured to receive awards in the Construction Productivity and Green and Gracious Builder awards categories. Construction Productivity Awards (CPA) are awarded to firms that have demonstrated productivity in their projects from the design stage to completion. The Green and Gracious Builder Awards (GGBA) are given to progressive builders to recognise their conscious effort in adopting environmentally friendly and gracious practices during the project's construction phase.
The company clinched the BCA CPA Platinum for its Amber Skye project for its overall economical, speedy and labour-efficient construction. As a high-rise development, the floor layout of Amber Skye was found to be repetitive, and suggestions were made by Kimly to further increase this repetitiveness. This high standardisation allowed for the adoption of advanced construction technologies such as modular system formwork and precast technology. The project also leveraged on the benefits of the latest methodologies and technologies such as Building Information Modelling (BIM) to facilitate early design error detection. BIM was also utilised to boost project team coordination and integration across various stakeholders. Trade conflicts and reworks could therefore be eliminated or minimized, which ultimately resulted in time and cost savings.
Being a part of the built environment sector, we are committed to creating a sustainable future while safeguarding the local and global environment for future generations. This is achieved by adopting best practices in construction site management, adopting top-down construction to avoid noise generated in conventional bottom up construction, protecting trees within and around site beyond regulatory requirements, etc. The BCA GGBA Star is awarded to the company in recognition for our continuous efforts in environmental protection and gracious practices.
As one of Singapore's most progressive builders, Kimly Construction looks forward to continuing our dedication in building an environmentally, socially, and economically sustainable future.